Words and pictures by Ray Duff
Town Mayor Cllr Michelle Keutenuius, third from right, welcomed all to Pride Photo: Ray Duff
Folkestone Pride became the county's first outdoor LGBT event in almost two years last Saturday, due to the pandemic, and was held on The Leas near the Bandstand with a socially-distanced party with music in the afternoon.
The event was opened by the legendary Miss Di Vour, followed by Folkestone Town Mayor Cllr Michelle Keutenius welcoming all revellers to the events throughout the day and evening.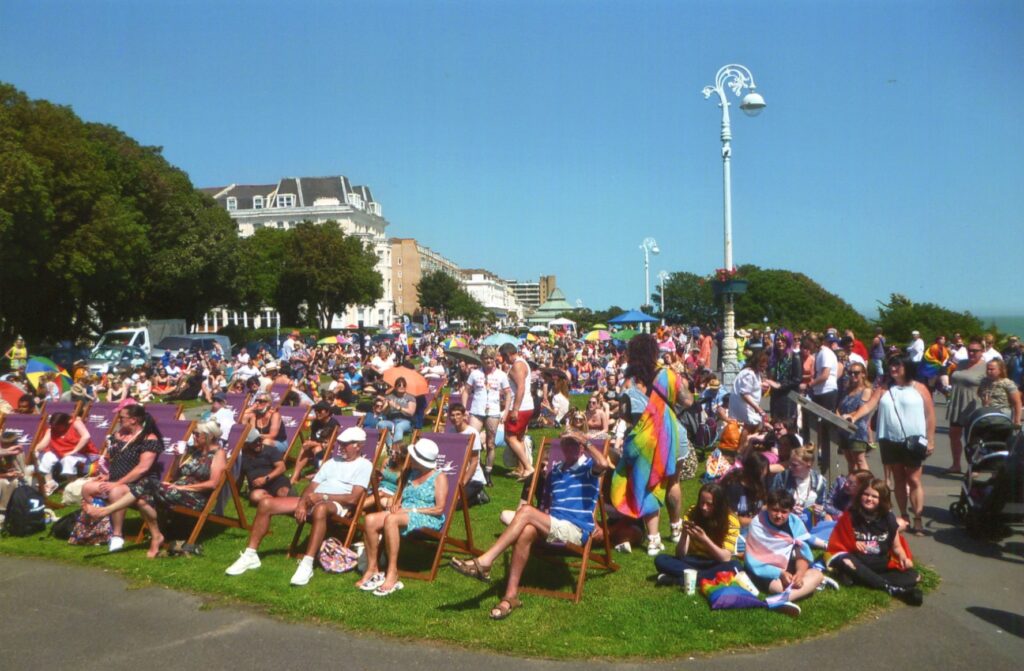 The various entertainers included a number of drag queens Miss Di Vour, Chai, Carnelia Flame, Lina Lawless, Quanita, Dita Garbo & Miss Dolly Poppers. Followed by steel drummer Rahmel Lee, entertainer Reece Lyons and singers Pink Suits and Katie Wintie. Opposite the Bandstand across the lawn Drag Queen The Nighbus also provided a storytelling session for children attending the event.

The lawns either side of the Bandstand were carefully thronged by people of all ages, with gay people and their friends and families along to support them. There were even some people down from London plus a group of young people at their first ever pride event including some who originated from parts of Europe and even Argentina but now live in the UK!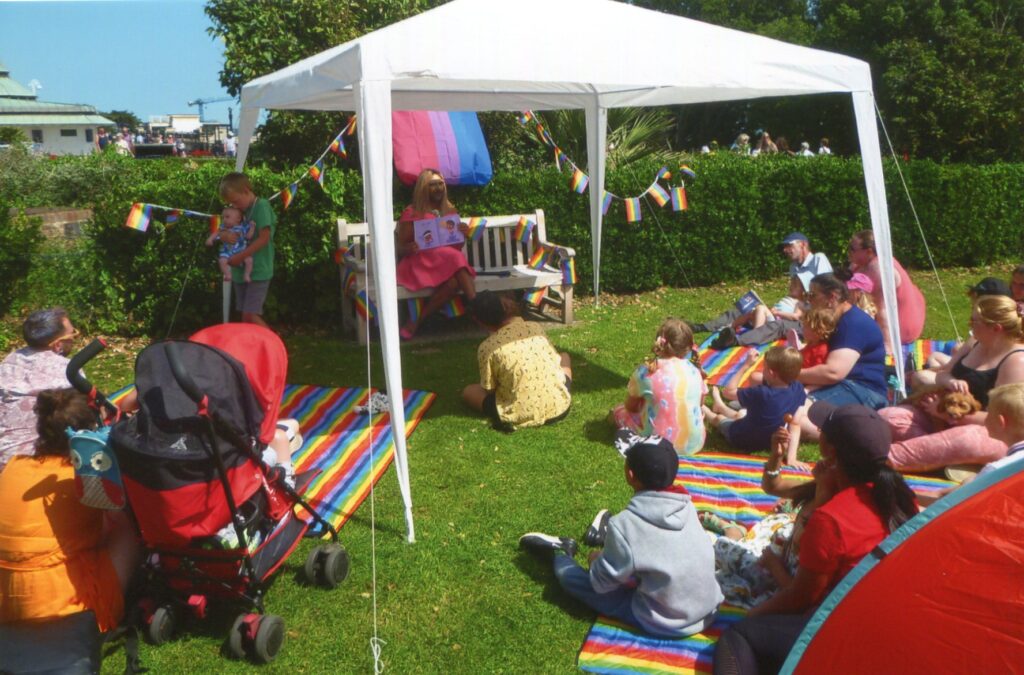 Surrounding the Bandstand were various ice cream vans, lgbt stalls, a water and hand sanitizer stall and medical van along with security patrols and the Kent Police Diversity car parked nearby.
The Bandstand entertainment was provided by The Chambers and Academy FM working with Folkestone Pride and the various acts.

Following the bandstand picnic event there were several evening party's around the town at various pubs, bars, cafes such as The Chambers and Quinn Inn etc followed by the 'Salty' afterparty on the Harbour Arm.
Folkestone town centre venues & street, along with many in Hythe's High Street and Sandgate had also all previously dressed up with many rainbow flags of all shapes and sizes ahead of the event.

It is hoped that next years event will be able to return with the usual town parade and an even better venue and entertainment line up.
For info on future Folkestone Pride events see: https://www.facebook.com/folkestonepride/
The next scheduled LGBTQAI+ events in Kent are due on the following days but please check the Facebook sites for details:
Margate Pride. Sat 14 August (Cliftonville Bandstand)https://www.facebook.com/margatepride
Dover Pride . Sat 28 August (Town)https://www.facebook.com/pridedover/
Canterbury Pride. Sat 11 September (City Centre) https://www.facebook.com/pridecanterbury