East Wear Bay which contains the now underground Villa and Iron Age site Photo: Ray Duff
Words and pictures by Ray Duff
Folkestone's Roman Villa site at East Cliff continues to provide some unusual surprises when it comes to finds. 
Just recently a broken, but nearly 70 percent complete, ceramic bowl was found nearby which has proved rather tricky to identify, even by experts.
The item was found by my brother Kevin whilst out walking his dogs last year, though due to the lockdowns, he could not get it to me until earlier this year to research it, as I am a member of the Folkestone Research and Archaeology group.
Following some online searches which could not identify the object as to its date or usage, archaeologist Richard Cross was contacted and he gave an initial assessment.
His first thoughts were that it was of Roman origin but unsure if a locally made 2ndCentury bowl or late 4th-5thCentury import from North Africa. Other options ranged from post Roman Rhenish-wear from NW Germany to post Roman, Merovingian (Continental) or even 16th-18thCentury domestic pottery.
Dr Malcolm Lyne
A Medieval specialist was contacted but he did not consider it to be from that period and so renowned Roman pottery expert Dr Malcolm Lyne, who has experience at East Cliff, was approached.
He immediately asked for it to be sent to him for assessment. 
Dr Lyne needed quite some time to conduct very extensive searches before reporting back.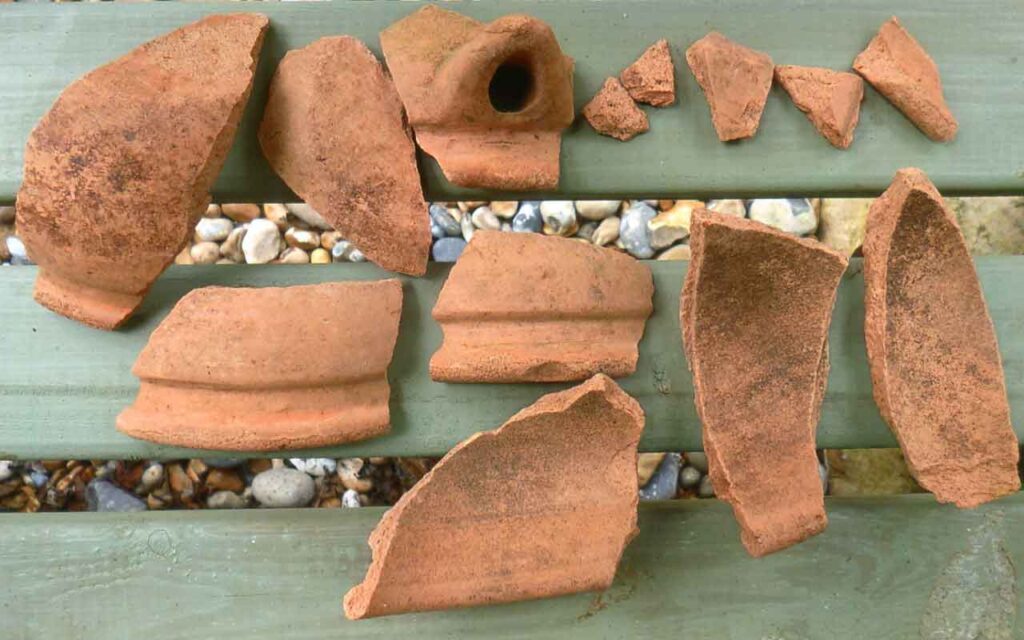 He advised that after considering locally made pottery, including known  Atrebatic bowls of the 1st – 2ndCentury found in Surrey amongst others, he concluded that: "An extensive search has failed to produce any exact parallels for the vessel in Britain."
So the research was extended to the Continent and he eventually found a couple of similar bowls, made of much the same material and of the same profile (shape), but without the handle slot/spout. These were found in Flanders and the Pas de Calais regions and dated to the period 50-0 BC.
Dr Lyne concluded: " It is suspected, that this vessel was made to order at a production site in the Pas de Calais and traded into the Late Iron-Age quern-producing (corn-grinding) settlement at east Wear Bay."
Even with this though it has left a number of questions about it unanswered, so further examination, especially of the black residue within the bowl needs to be undertaken.
Donated
The bowl is to be donated to Folkestone Museum and it is also hoped that a restoration can be done at a later date for displaying.
The find helps to show that there is still much to be discovered about the nationally and internationally important East Cliff site and surrounding area.
The Roman Villa site, which was first excavated in 1924 is nearing the 100th anniversary of the Samuel Winbolt dig in just three years time, and the surrounding Iron Age site, which has also produced some hugely important quernstone working, and much else goes back even to the Mesolithic period.
Related links
East Wear Bay archaeology info: www.eastwearbay.co.uk
Folkestone Museum www.folkestonemuseum.co.uk
Folkestone Research and Archaeology group.  www.folkarch.co.uk