Kent Fire and Rescue Service (KFRS) is encouraging people to help serve their community by applying to become on-call firefighters at a number of stations across Kent and Medway.
On-call firefighters for Kent Fire and Rescue Service (KFRS) are professional firefighters who offer days and times when they are available to respond to emergency incidents. They carry a pager so that they are able to work in their normal job, either from home, for themselves or for a company – but must be able to get to their local fire station when needed.
Crews come from every walk of life, including chefs, shop workers, builders, farmers, administration officers and directors of companies, together with people who are not in currently in primary employment.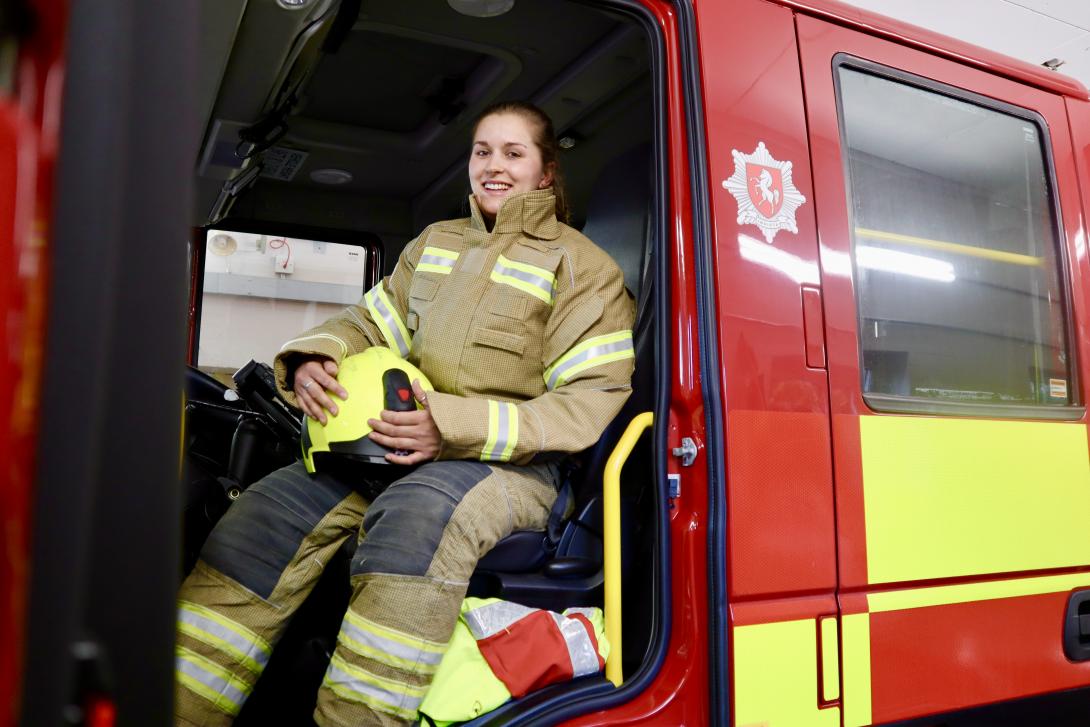 A sense of purpose has been a key feature for Gabriella Cox, who joined the service two years ago as an on-call firefighter.
"The biggest thing for me really is the purpose you get when serving your own community," says Gabriella. "No matter what background or experience you have, anyone can apply to be an on-call firefighter. I'm a horse riding instructor in my own time, but I've always felt like I needed more, and had a desire to become a firefighter – so when the opportunity to apply at my local fire station came up, I jumped at the chance. If I could advise anyone who was thinking about applying, I'd say just do it. You won't regret it. There really is no better feeling than helping others live safer lives, and by working as an on-call firefighter, you'll be helping people and your community in so many ways."
On-call firefighters also act as ambassadors for the fire service and undertake other duties, ranging from attending open days to working with their local communities. They receive an annual wage to reflect the time they commit to being available, plus additional payments for attending incidents, extra training and pre-planned voluntary additional activities.
On-call firefighters are required to live or work within five minutes travelling time from a local on-call fire station and to be able to provide evening, daytime or weekend availability to attend a wide range of emergency fire and rescue incidents.
KFRS station manager Neil Parr said: "On-call firefighters are a vital part of today's fire and rescue service, and they are an integral part of our community. We're currently encouraging anyone with the right skills and enthusiasm, who would like to make a real difference in their community, to get in touch and see if your local fire station is recruiting."
To apply, you must be:
At least 18 years old
Live or/and work within 5 minutes of an on-call fire station
Have a good level of personal fitness
Full training is provided on an ongoing basis, so previous experience is not needed. On call firefighters are paid to be available for an agreed number of hours based around other commitments and station demand. During that time, they are able to carry on their normal life, but are paid to be available when an incident comes in.
See the full list of recruiting stations in Kent and Medway, here.