Conservator Tim Bainbridge speaks to visitors beside a Burges Chair Photo: Ray Duff
Words and pictures by Ray Duff
On Saturday people from across Dover and beyond visited the first Conservators open day at the historic Maison Dieu in Dover town centre. 
The building is at the start of a two year project to explore and conserve the buildings interior and exterior along with its many paintings, furniture, stained glass and its numerous fixtures and fittings representing its long and varied usages.
In the main entrance of the 13th C Stone Hall, and amid the scaffolding erected to access the upper parts of this section as well as the stained glass windows etc, visitors could view the first storyboards of the project as well as speak to conservators about the various activities that are to be undertaken.
On view was an 19th Century 'Burges' chair (after architect William Burges) made of mahogany with leather upholstery and horse hair filling along with lions heads carved into the front of the arms. The chair, one of many, was in clear need of restorations, especially the upholstery, which will involve new leather and horsehair whilst some of the original leather work may be preserved for posterity and display.

The numerous historic paintings are also to be conserved, mostly on-site but with some heading to London also. The frames are in varying need of conservation and the paintings themselves in need of careful cleaning and maybe some further work. One such remains in the old Mayors parlour for the moment.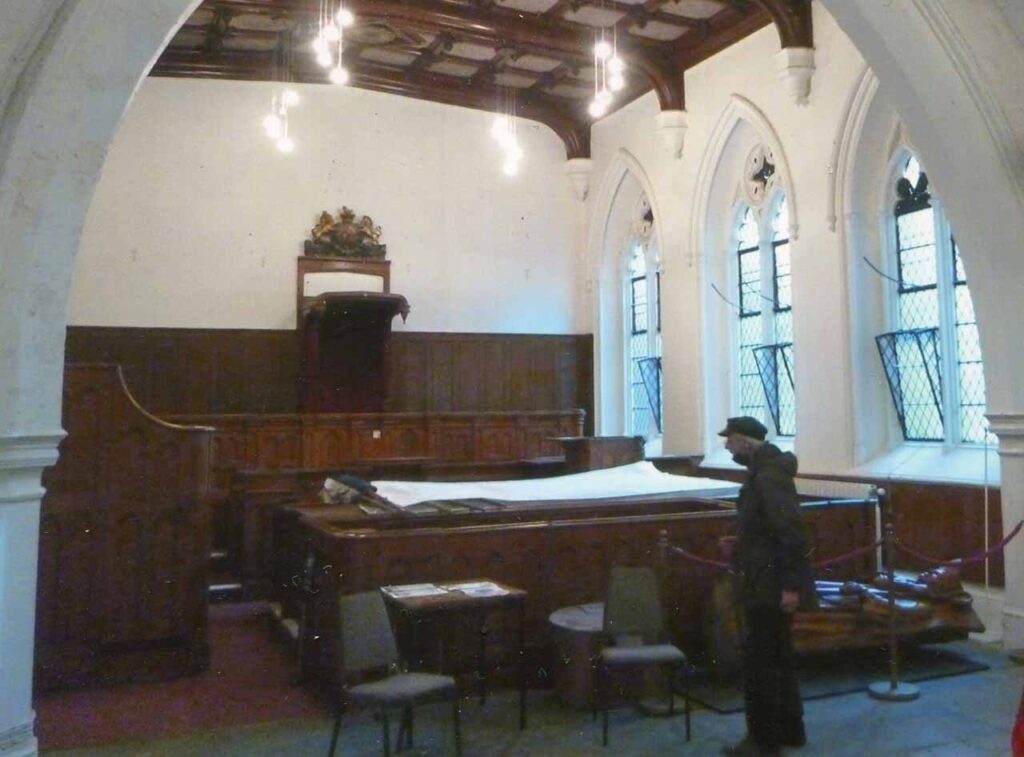 Within the next door 19thC Connaught hall, there were activities for children and further info boards about the various stages of the project to be undertaken over the next two years.
Access to the former Mayors' Parlour rooms, the Council Chamber and Courtroom, formerly a Chapel as shown by the St Richard carving on display, were also available along with sight of some of the original decorations which have so far been uncovered beneath the later paintwork. The former goal areas are only featured on some signboards at present.

Later in 2022, in April, July and September, there are three archaeological excavations being undertaken to look at the surrounding areas of the building to ascertain prior building, accesses, and usages of the approaches.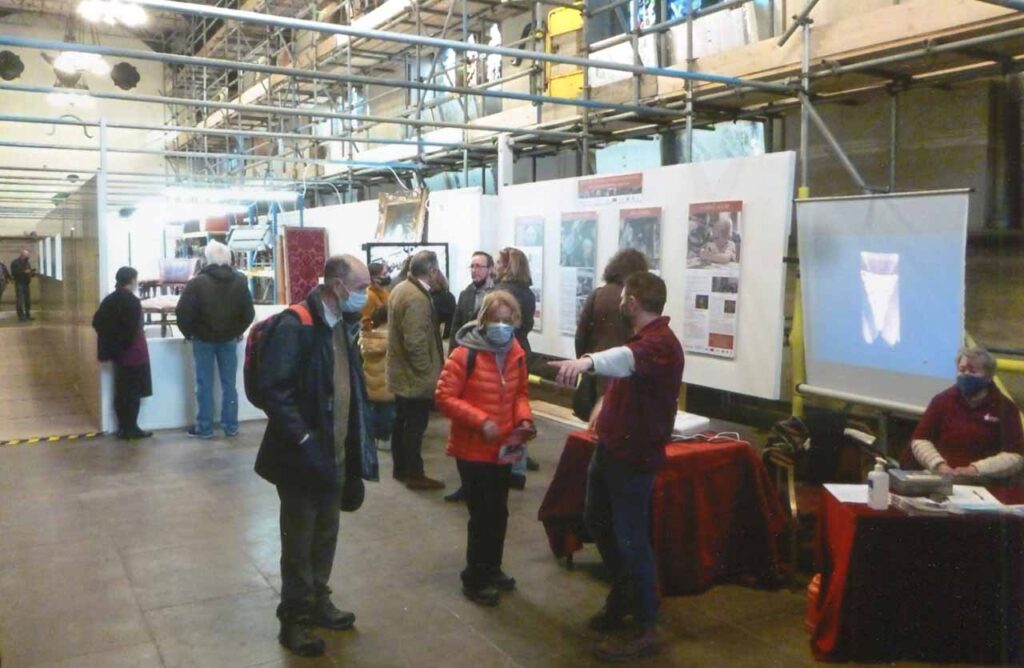 There are also an ongoing series of special events arranged or being planned throughout the next two years, and people can visit the conservators on Wednesdays between 11am -3pm.

The work is Heritage Lottery funded and a partnership between Dover District Council, Dover Town Council, Bainbridge Conservation, The Wolfson Foundation, The Dover Society and The Landmark Trust.
Further information and events can be found at : www.maisondieudover.org.uk
See also: https://localrags.co.uk/2022/01/25/conservation-studio-offers-rare-insight-into-9m-dover-maison-dieu-restoration/