Come along to Maidstone Museum as it reopens to the public on Wednesday 9 February.
Why not start your visit with an in-depth 'Gallery Gander' exclusive look at 10 highlighted objects around the galleries with one of the collections team. The tour costs £5 each and runs from 10.30am.
The Museum, which is owned and run by Maidstone Borough Council, will kick off the season with an imaginative temporary exhibition 'The Plaxtol Protocol'.
The exhibition is from Leasingstede Museum, an imaginary venue in the West Country where, unaffected by considerations of truth or expense, there exists a collection of treasures under the vague supervision of the Director and a couple of curators.
Besides obscure rural implements, there are fossils, a three-in-one basket, a copper shield, weapons, folk art, a hooked spoon and a particularly heavy coin hoard, with a time span from prehistory to last week. The exhibition is £4 per adult, £2 a child aged 5 years and over, or a family ticket is £10.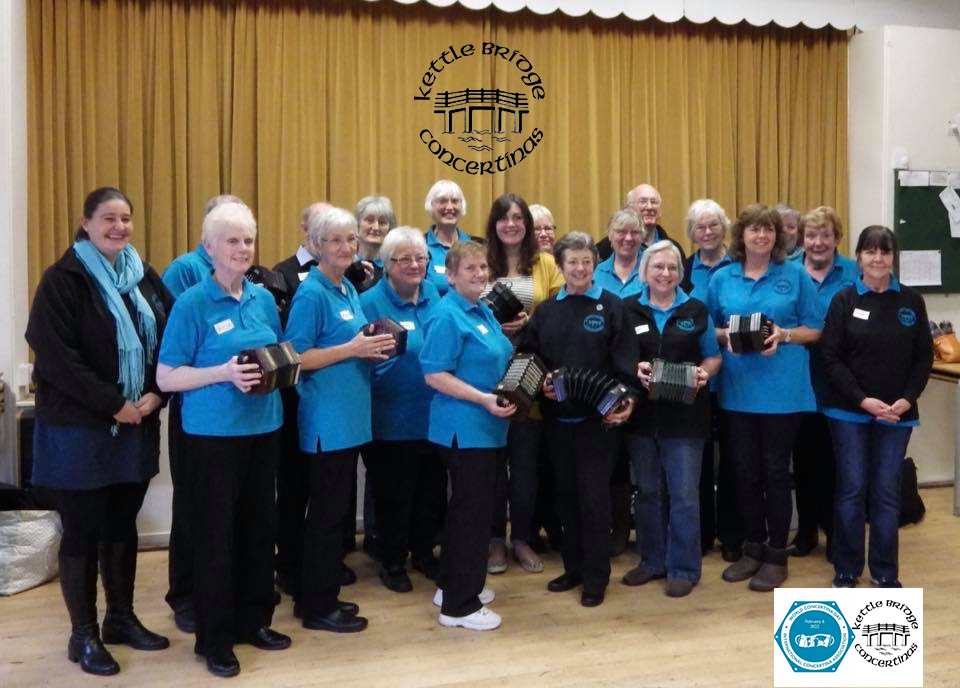 In addition, to welcome visitors back for the first Saturday, the Kettlebridge Concertinas, pictured above, will be knocking out a wall of sound on Saturday 12 Feb in celebration of World Concertina Day. They will be playing between 10.30am and 2.30pm and will also be bringing concertinas along for visitors to have a go!
Cllr Martin Round, Chair of the Economic, Regeneration and Leisure Committee said: "I do love to visit Maidstone Museum with all the local treasures from our past and am thrilled it is re-opening. I bet the concertinas will create some great music, filling the Museum with fantastic authentic sounds, it will be a lively day, why not come along."
The Plaxtol Protocol is part of an ongoing artwork created by Twickenham-based artist Jane Williams, who says: "All is not what it seems, and Kent residents who know a thing or two about their county's history are in for a few surprises.
"The stories behind the Leasingstede artefacts offer a view of the past at odds with accepted interpretations. But what you lose in accuracy, you gain in entertainment. You'll have to visit the show to find out what the Plaxtol Protocol is. But I can tell you that it is pink".
Information on other events and to book:
Plaxtol Protocol: Wed 9 Feb to Sat 16 Apr – All Day
Tickets are £4 per adult, £2 for children aged 5 years and over, Family ticket of up to 3 children is £10. To book https://museum.maidstone.gov.uk/whats-on/events/the-plaxtol-protocol/
Gallery Gander – 9 February 10.30am to 11.20am book your space here: https://museum.maidstone.gov.uk/whats-on/events/gallery-gander-february2022/
February Half Term Make It Craft sessions – Wed 16 Feb to Fri 18 Feb 2022 – 10:30am to 2.30pm. History craft themed Make It! sessions for children. £3 per child per session, an adult needs to stay with children and activities take 30 to 50 mins. Book your tickets here: https://museum.maidstone.gov.uk/whats-on/events/february-half-term-2022/
February Half Term History Arts Award Days
Mon 14 and Tue 15 Feb – 9am to 3.30pm – a day packed with art and history.
For children aged 7-11 years who love the past and love getting creative.
Try out different art activities inspired by the museum's fantastic collections!
Go behind the scenes with the curator of The Plaxtol Protocol touring exhibition, artist Jane Williams, find out about creating exhibits and produce your own mini museum, share your creations at the end of the day with your family, receive a museum certificate on the day, and an official Arts Award certificate a few weeks later.
Led by two of the museum's experienced Learning Team. Children should bring a packed lunch, drink and breaktime snacks. £30.00 per child (per day). Numbers are strictly limited, so early booking is advised. For more information and to book: https://museum.maidstone.gov.uk/whats-on/events/history-art-days-feb2022/
Actively Involved Sessions – Over 55 or living with a long-term health condition? Are you looking for something different? Enjoy the company of like-minded people. Handle fascinating objects from the past and share your memories of them. There's tea and cake too! The sessions will take place on the last Wednesday of each month from 2.30pm till 4pm.
Dates are: 23 February and 30 March
To reserve a place call 01622 602862 or mail museumevents@maidstone.gov.uk
The main Maidstone Museum is free to enter and from 9 Feb is open Wednesday to Saturday from 10am to 4pm (Last entry is 3.30pm)