Fr Dylan Jeffrey and welcomer at the Catholic Church Photo: Ray Duff
Story and Photos by Ray Duff
Over the past few weeks we have all watched in horror at the invasion of Ukraine in Eastern Europe by the forces of President Putin.
This alongside the brave citizens of Ukraine trying to fight back whilst millions of others, especially women and children flee as refugees.
We have also witnessed the albeit few very brave demonstrators in Russia trying to protest at their Government's war.
In Folkestone & District many local people and businesses, especially charity shops, have been rallying round to gather as much help for the refugees as they can.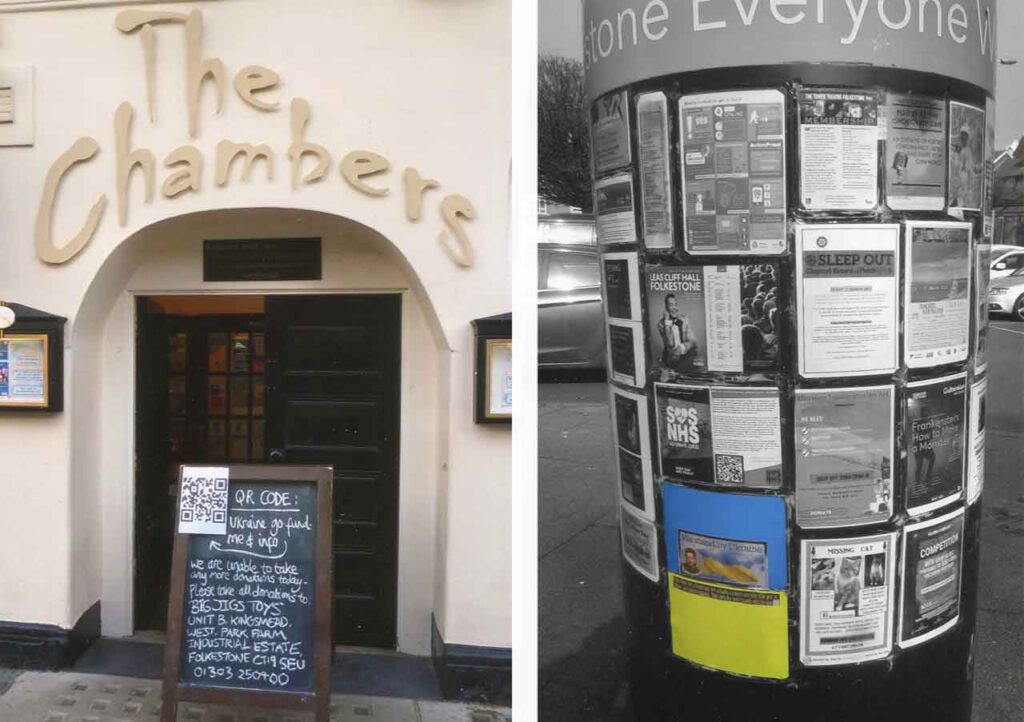 Shop windows in Folkestone, Cheriton, Hythe, and likely beyond have been adorned with blue & yellow books, clothing and other items to show support, whilst also displaying donation posters, or messages against the war
One military shop in Folkestone G4 Echelon, has been inundated with enquiries to obtain equipment from its Cheriton storage yard whilst Churches, such as Holy Trinity in Sandgate Road have been calling for food and medicine donations alongside cafes such as The Chambers.
Last Saturday the Catholic Church of our Lady in Guildhall Street held a candlelit vigil for anyone who wished to attend. Fr Dylan Jeffrey related how on the day well over 800 people came to light a candle, including from other faiths such as Muslims, Sikhs, etc or just to pay their respects and or sit in silent prayer in the Church.
It is a sad fact that it is likely to take much longer for this conflict to be resolved and we will all have to keep with the Ukrainians as best we can, including assisting the refugees as and when they may arrive to stay in out District.