Competition winners congratulated – Emily Barlow, Jessie Reardon and Charlie Barr are pictured with Cllr Martin Bates
Dover District Council has teamed up with our recycling, refuse and street cleansing contractor Veolia to host a design competition for residents aged under 18 to design a poster to encourage people to do the right thing and put litter in the bin.
The winning design will help to drive the litter message home around the district by featuring on two of Veolia's fleet vehicles.
The competition winner was Jessie Reardon, 11, from Dover, and her winning 'rapper' design (below) will be appearing on two vehicles in the district. The runners up were Emily Barlow, 17, from Deal and Charlie Barr, 9, from Deal.
A presentation was made to the winners at the DDC offices in Whitfield today, with representatives from DDC and Veolia. The winners also received Love to Shop vouchers, with a £50 voucher for the winner and £25 vouchers for the runners up.
The competition was launched as part of the Great British Spring Clean campaign.
Competition winner Jessie said: "I'm very proud to have won this, and am really looking forward to seeing the design on the truck."
Cllr Martin Bates, DDC Cabinet Member for Regulatory Services, said: "We're delighted to have teamed up with our partners at Veolia to run this competition, and we've been really impressed by the quality of the entries. It was great to be able to make these presentations and our congratulations go to Jessie, Emily and Charlie on their success. We can't wait to see the winning design around the district."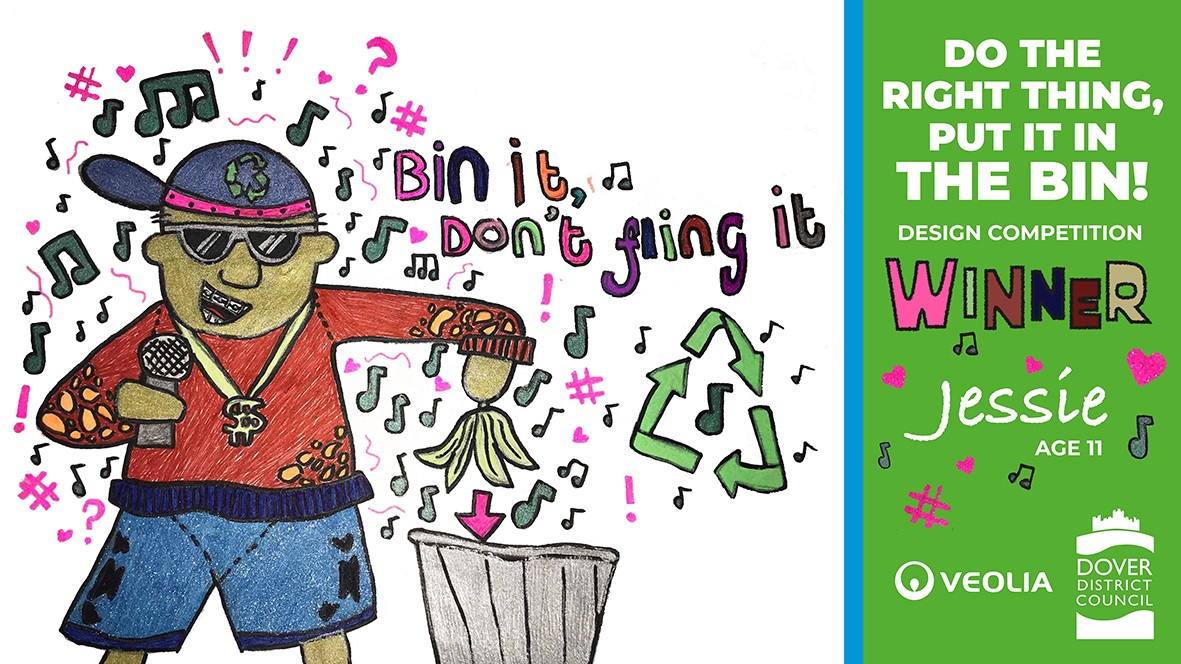 David Fitzgerald, General Manager for Veolia South East, said: "It's really exciting to see Dover District's young residents taking pride in their local community and encouraging others to do the same through their artwork. We know that children are often the most enthusiastic environmentalists, and can have a huge impact on inspiring their community. Jessie's winning design will be proudly displayed on two of our collection vehicles, serving as a lasting reminder to residents to do the right thing with their litter."
For more information on the campaign and the design competition, please see our Great British Spring Clean page at www.dover.gov.uk/GBSC