Restoration of the Maison Dieu gets underway in August following the appointment of Coniston Ltd as principal contractor
Kent-based Coniston Ltd, specialists in the conservation and restoration of heritage and listed buildings have been appointed by Dover District Council as principal contractor for the £10.5m restoration of the Maison Dieu in Dover.
Coniston have worked on many of the UK's finest historic buildings including Canterbury Cathedral, the Old Royal Naval College in Greenwich, The British Museum, The Tower of London, Sheerness Dockyard Church, Somerset House, and the Victoria & Albert Museum.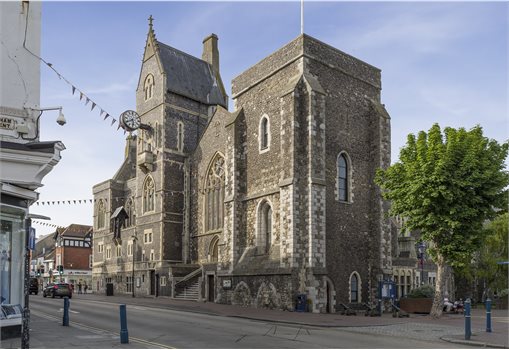 Work on the 800-year-old Maison Dieu, also known as Dover Town Hall, which is Grade I Listed and a Scheduled Monument gets underway in August.
Working with a range of specialist conservators and contractors, Coniston will conserve and restore elements of the building's fabric, recreate internationally significant decorative schemes by the renowned Victorian neo-Gothic architect, William Burges (1827-1881), construct a new street-level visitor entrance to the Connaught Hall, and improve access throughout the building.
The project creates a sustainable future for the Maison Dieu by bringing redundant spaces back into commercial use, including restoring the Mayor's Parlour as a holiday let in conjunction with The Landmark Trust, and a unique new café in the space once occupied by Victorian gaol cells!
Once complete in 2024 the Maison Dieu will be permanently open to the public for the first time in its 800-year history and playing a key role in the regeneration of the town centre.
Alongside Dover District Council, the project is funded by the National Lottery Heritage Fund, The Wolfson Foundation, The Landmark Trust, Dover Town Council, and the Dover Society.
History of the Maison Dieu
The Maison Dieu (House of God) was founded in the early 1200's by Hubert de Burgh and passed to King Henry III in 1227, when the earliest surviving part of the building, the Chapel (later the court room) was consecrated in his presence.
It was built as a place of hospitality for pilgrims journeying from continental Europe to Canterbury Cathedral to visit the shrine of Thomas Becket. Following the Dissolution in the 16th century, the Maison Dieu was subsequently used as a victualling yard supplying ships of the Royal Navy.
In the mid-19th Century, the prominent Victorian architect Ambrose Poynter (1796-1886) extensively restored the Maison Dieu aided by the up-and-coming Gothic Revival architect, William Burges. Burges later went on to further remodel the building and design an assembly hall (the Connaught Hall) and civic offices, including a range of bespoke furniture and interior schemes.
The Maison Dieu is the only civic commission by William Burges, and the only intact building in England still containing his decorative scheme, furniture, and fittings.